Students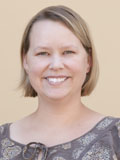 Vanessa Dahl, BS, MS (PhD student in Animal Science)
Vanessa's goal is to determine if hoof conformation and characteristics can be used to predict injury in horses. Her study interests are horse hooves and their health.
Lauren Gloekler, BS, (MS student in Biomedical Engineering)
Lauren's study involves using Raman spectroscopy to investigate the molecular mechanism of the stress-whitening phenomenon observed in bone prior to mechanical failure. Her goal is to determine the effects of mechanically-driven collagen dehydration on mechanical properties of bone.  
Carissa Garrity, BS (PhD student in Integrative Pathobiology)
Carrissa's project is focused on cartilage tissue engineering and immunogenicity. The goal for her main project is to be able to efficiently knockout MHC I from chondrocytes to establish immune-universal cartilage. 
Christina Rohlf, BS (PhD student in Biomedical Engineering)
Sarah Shaffer, BS (PhD student in Mechanical Engineering)
Sarah's project focuses on fractures of the proximal sesamoid bones, which are among the most common fatal bone fractures in Thoroughbred racehorses. The goal of her study is to create a mathematical model of the proximal sesamoid bones that will predict fracture risk based on the training program.
Hailey Cunningham, BS (PhD student in Orthopaedic Surgery)
Priscilla Tjandra, BS (PhD student in Biomedical Engineering)
Lyndsey Marsh, BS, MS (PhD student in Animal Science)
---
Veterinary Students
Sarah Alwen
Michael Maynard
---
Past Students
 
Regina Zavodovskaya, MS, DVM, Dipl ACVP
Tiffany Sarrafian, BS, DVM, PhD
Tiffany completed her equine surgical residency at UCDavis. She completed her PhD research involving muscle regeneration.
Jennifer Symons, MS, PhD
Jen's research was focused on racehorse limb dynamics and she developed a computer dynamical model of the racehorce limb interaction with a simulated racetrack surface.
Mandy Murray, DVM, PhD
Mandy's research was on Silicosis Associated Osteoporosis
Jacob Setterbo, PhD
Jake's research was on the Racetrack Surface in a Box
Shinya Watari, DVM, PhD
Shinya research was in control of osteogenic differentiation induced by biophysical cues.
Lucy Anthenill, DVM, PhD
Rachel Entwistle, MS
Tim Thio, BS (MS student in Mechanical Engineering)
Sasha Curtis, BS (Masters student in Animal Biology)
Allison Hsia, PhD
Armaun Emami, PhD
Manali Paralkar, MS